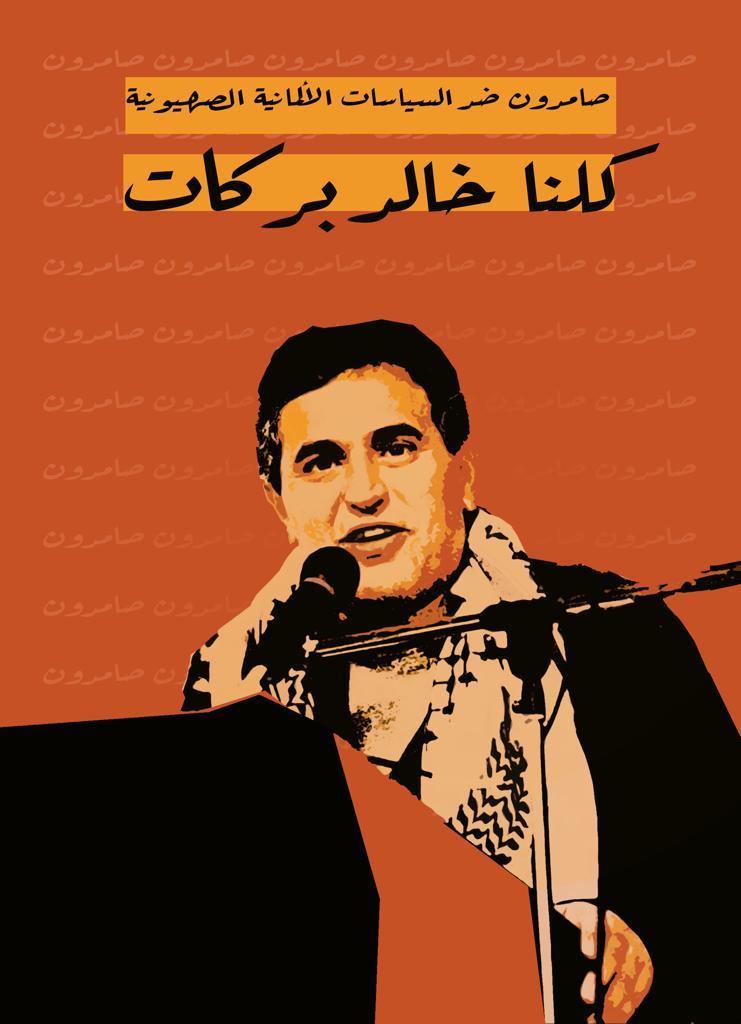 International solidarity is growing with Khaled Barakat, the Palestinian writer who has been subjected to a political ban in Germany for his support of the Palestinian liberation movement. Barakat and Charlotte Kates, the International Coordinator of Samidoun Palestinian Prisoner Solidarity Network, were told their residency would not be renewed in Germany as well. Barakat was threatened with up to a year in prison if he spoke at events, demonstrations or lectures. We are urging the broadest international support for this issue; it comes as part and parcel of a series of repressive attacks on Palestine organizing in Germany, including an anti-BDS motion passed by the Bundestag, the German Parliament, in May 2019.
The repression in Germany also comes as part of a state-sponsored international, multi-million-dollar effortby the Israeli Ministry of Strategic Affairs to repress growing solidarity with the Palestinian people and organizing in Palestinian communities around the world, especially in Western, imperialist powers who have aligned themselves with Israeli apartheid and occupation. Gilad Erdan, the Minister of Strategic Affairs, often called the "anti-BDS ministry," boasted in a Hebrew-language press release on 1 July about the political ban on Barakat as well as other repressive actions in Germany, including the closure of the bank account of Jewish Voices for a Just Peace and the disinvitation of artists who support justice in Palestine like rapper Talib Kweli.
At the same time that the Israeli government is urging escalated repression around the world, grassroots movements are standing in solidarity with Khaled Barakat and demanding that the political ban be dropped immediately – and, more broadly, with Palestinian rights. This political ban represents a dangerous precedent that could be applied to any non-German citizen who comes to speak about Palestine, especially coming only three months after a similar ban was applied to former Palestinian prisoner and feminist leader Rasmea Odeh.
Please join the support campaign! Send your statements of solidarity to samidoun@samidoun.net or take a solidarity photo featuring the campaign posters to post online or share with us!
Below are just some of the expressions of solidarity we've already received.
From Collectif Palestine Vaincra, the famous French comic book author Jacques Tardi and singer Dominique Grange stand in solidarity with Khaled Barakat:
Struggle-La Lucha marched with "Solidarity With Khaled Barakat" signs at the Queer Liberation Parade in New York City on 30 June:
Protesters in Berlin at the demonstration against anti-Palestinian repression and the Bundestag's anti-BDS resolution on 28 June say, "Solidarity with Khaled Barakat!"
Protesters in Brussels against Trump's "Deal of the Century" and the Bahrain conference attempting to impose permanent occupation on the Palestinian people stand in solidarity with Khaled Barakat:
Toulouse demonstrators against the G7 on Thursday, 27 June also express their solidarity with Khaled Barakat and Palestine:
Solidarity image from ATIK (Confederation of Workers from Turkey in Europe):
Solidarity photo taken at the 6th International Assembly of the International League of People's Struggles in Hong Kong:
Photos from Toulouse on 2 July where people gathered at the Italian consulate to protest in support of Carola Rackete, captain of the "Sea Watch 3":