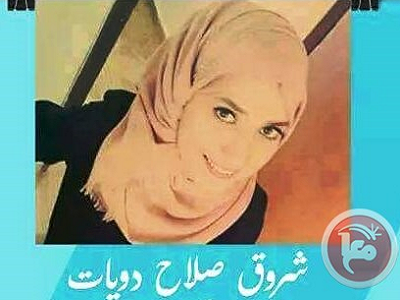 The Israeli magistrate's court in Jerusalem on Sunday sentenced a 19-year-old Palestinian girl to 16 years in prison, after she was accused of attempting to stab an Israeli settler in the Old City of occupied East Jerusalem in Oct. 2015.  Members of Shurouq Dwayyat's family told Ma'an that the sentence also included a fine of 80,000 shekels ($20,929).
Shurouq was shot and injured by a 35-year-old Israeli settler in Jerusalem's Old City after she allegedly attempted to stab him on Oct. 7, 2015.
However, witnesses told Ma'an that she had been assaulted by the Israeli settler and did not have any sharp objects on her at the time of the incident.
Israeli media said at the time that the man sustained light injuries, while Shurouq was shot four times in her upper body, leaving her in serious condition. After initially being treated at Hadassah Hospital in Ein Karem, Shurouq was later taken to Hasharon prison.
Last week, an Israeli military court sentenced 15-year-old Natalie Shukha to a year and a half in prison after she was convicted of attempting to stab an Israeli soldier at a military checkpoint. Shukha was shot in the chest and injured by Israeli forces on the scene.
According to prisoners' rights group Addameer, some 10,000 Palestinian women and girls have been detained by Israeli forces over the past 45 years. In 2015 alone, Israeli forces detained 106 Palestinian women and girls, which according to the group represented a 70 percent increase compared to detention numbers in 2013.
In October, Addameer reported that Israel was holding 64 female Palestinian prisoners and some 400 Palestinian minors.
Since Oct. 2015, 34 Israelis have been killed by Palestinians and 246 Palestinians have been killed by Israeli forces and settlers. While Israel alleges many of those were attempting to attack Israelis when they were shot, Palestinians and rights groups have disputed Israel's version of events in a number of cases.
According to Addameer, among those detained between October 2015 and August 2016 were 13 underage girls, some of whom were wounded when Israeli forces detained them.