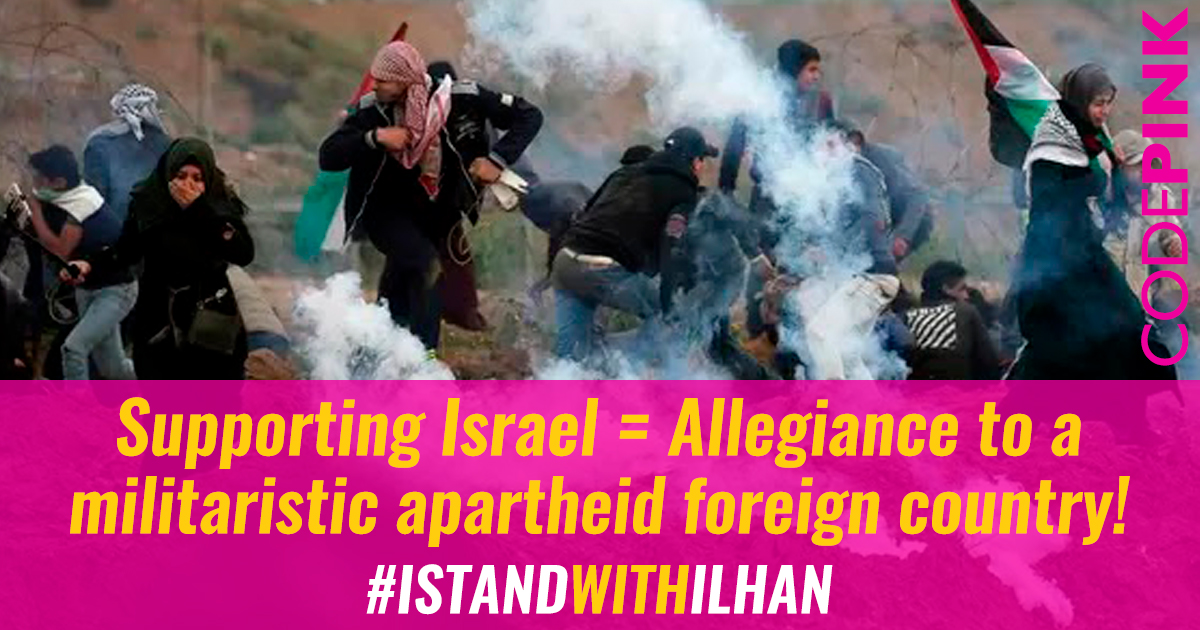 On Wednesday February 27, speaking at a CODEPINK supported Town Hall at Busboys and Poets in Washington, D.C., Rep. Ilhan Omar said "I want to talk about the political influence in this country that says it is okay to push for allegiance to a foreign country." For this statement of truth, Speaker Nancy Pelosi, Majority Leader Steny Hoyer, Foreign Affairs Committee Chairman Eliot Engel, Judiciary Committee Chairman Jerrold Nadler and Rep. Ted Deutch have introduced a resolution calling for Ilhan to be condemned. Just as there is nothing antisemitic about calling out AIPAC, what Rep. Omar said at the Busboys and Poets event was NOT antisemitic!
Previously, on Sunday February 10, Rep. Omar had responded to reports that she was to be "punished" for criticizing Israel and supporting BDS, by tweeting "it's all about the Benjamins, baby." Not more than a few hours passed before Omar found herself facing an avalanche of attacks.
We know the dangers of anti-Semitism come not from human rights champions like Ilhan, but from white nationalists like Donald Trump. We will not sit by and watch Rep. Ilhan Omar be attacked for accurately critiquing AIPAC's exerting outsized influence on our politicians and how allegiance to Israel – a foreign county – erodes our democracy.
Send a message now to your representative to stand with Ilhan Omar and vote NO on the Pelosi-Hoyer-Engel-Deutch-Nadler House resolution to condemn Omar.