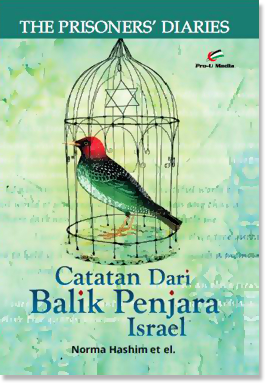 Buku ini merakamkan pengalaman 22 orang rakyat Palestin yang pernah berada di bawah tahanan pihak Israel. Mereka dibebaskan di bawah perjanjian di antara Israel dengan Hamas pada tahun 2011, yang menyaksikan pertukaran seorang tentera Israel, Gilad Shalit, dengan 1,027 orang tahanan Palestin.
(Buku ini akan dilancarkan pada bulan Ramadhan 2015 InshaAllah)
Translated by: Tim (Sahabat Al-Aqsa)
About the Editor
NORMA HASHIM – Full Time Social Activist, Treasurer at Viva Palestina Malaysia, Vice President of The International Union of Braille Quran Services, Founder and Trustee of Al-Fitrah Foundation, Treasurer and Committee Member at The Calistro Prize
Where to buy?
Available online: http://www.geraibukuislam.com/product/0/1090/The-Prisoner-s-Diaries