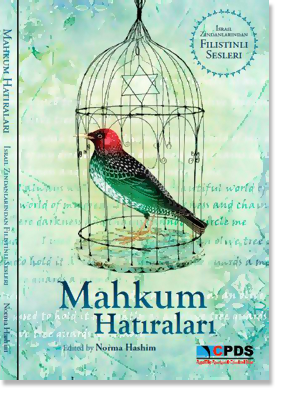 This is a compilation of 22 Palestinian prisoners' experiences in Israeli jails . 1,027 prisoners were released in 2011 as part of the exchange with Israeli soldier Gilad Shalit and 22 of them were interviewed by journalists. Their commentaries were translated by CPDS and edited. The book is dedicated to Samer Issawi and all Palestinian prisoners, past, present and future, and was released on 17April 2013, in conjunction with Palestinian Prisoners' Day.
Translated by: Selahattin Aydin


About the Editor
NORMA HASHIM – Full Time Social Activist, Treasurer at Viva Palestina Malaysia, Vice President of The International Union of Braille Quran Services, Founder and Trustee of Al-Fitrah Foundation, Treasurer and Committee Member at The Calistro Prize
Interviews
Anadolu agency
İSTANBUL (AA) –SARE SELVİ ÖZTÜRK- Malezyalı aktivist Norma Haşim, Filistinli mahkumların günlüklerini kitaplaştırdı. "Mahkumların Günlükleri" isimli kitap okuyucuyla buluşurken Haşim, "Filistinli mahkumların sesini tüm dünyaya kendi günlüklerinden duyurmak istedik" dedi.
"Kitabı okuduğunuzda Filistinli mahkumların yerine kendinizi koyabiliyorsunuz ve neler yaşadıklarını daha iyi anlayabiliyorsunuz" diye konuşan Haşim, "Dışarıdan biri olarak her ne kadar Filistin meselesiyle ilgilensek de tam bilemeyiz. 1967'den bu yanda 800 binden fazla mahkum olmuş insan var. İlk defa bu günlükler bize ulaştığında, konuyu başka şekilde gündeme getirmek, mahkumların günlüklerini yayınlamak istedim.".. VIEW ALL
Yeni Safak
İsrail hapishanelerinin Ebu Gureyb"ten farkı yok – Norma Haşim, birçok uluslararası sivil toplum kuruluşunda görev alan ve "herkes için adalet" anlayışıyla çalışan beş çocuk annesi Malezyalı bir aktivist. İsrailliler tarafından hapse atılan mahkumların hikayesini kaleme alan Haşim, "Yemek vermeden önce mahkumların köpek gibi havlamalarını istiyorlar, tanıdığım bir mahkum cezaevinden çıktıktan sonra istem dışı hala havladığını anlattı"..VIEW ALL