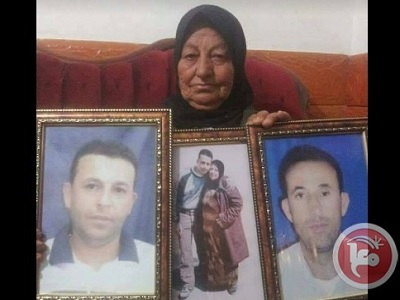 Three Palestinian brothers, identified as Abed al-Salam, Nidal and Noor al-Din Omar, all of whom are being held in Israeli prison, entered the 10th day of an open hunger strike in protest of the continued holding of Noor al-Din in solitary confinement in Israel's Eshel prison for more than three years.
The brothers' family, from the village of Beit Amin in the occupied West Bank district of Qalqilya, told Ma'an on Friday that Abed al-Salam and Nidal were detained three years ago and were sentenced to life and 20 years in prison, respectively, for attempted kidnap of an Israeli soldier in an effort to exchange him for Noor al-Din.
Noor al-Din has spent 14 years in Israeli prison out of his 55-year sentence. It remained unclear why Noor al-Din was serving 55 years in prison.
The family called upon human rights groups to intervene on behalf of their sons held in Israeli prison.
Two prisoners protesting the treatment of female Palestinian prisoners, Samer al-Issawi and Munther Snawbar, ended their hunger strike this month after reaching a deal with Israeli authorities.
Meanwhile, scores of Palestinian prisoners have launched hunger strikes in the past year to protest administrative detention — an Israeli policy of internment without charge or trial based on undisclosed evidence — or the conditions of their incarceration. The most prominent hunger strikers included Muhammad al-Qiq, Bilal Kayid, and Muhammad and Mahmoud Balboul.
PPS: Health condition of hunger striker Abu Shamla getting worse

The Israeli prison authority has transferred hunger-striking prisoner Majd Abu Shamla from solitary confinement in Negev jail to another one in Ashkelon despite his deteriorating health condition.

english.palinfo.com
According to Addameer, 7,000 Palestinians were being held in Israeli prisons as of August. The prisoners rights group estimates that 40 percent of Palestinian men have been detained by Israel at some point in their lives.
(Ma'an, PC, Social Media)