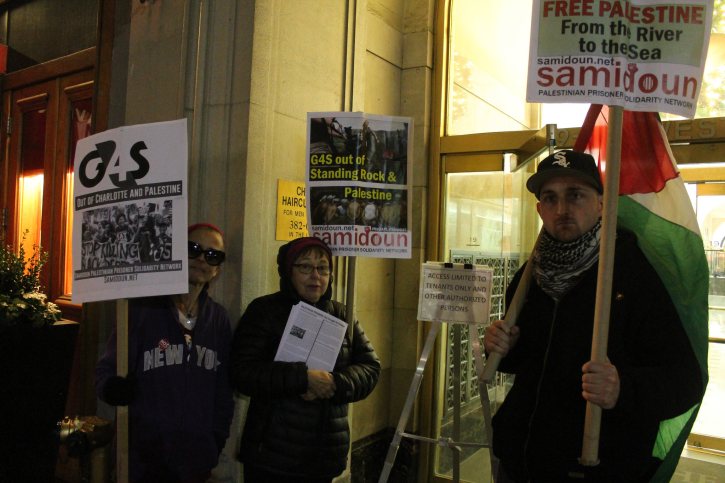 Protesters in New York City gathered outside the offices of G4S, the massive British-Danish security corporation, on Friday 9 December. Samidoun Palestinian Prisoner Solidarity Network gathered to protest its ongoing involvement in Policity, an Israeli occupation police training center, and to mark its sale of its Israeli subsidiary, which contracts with the Israeli prison administration.
Demonstrators braved the cold to find that G4S had posted a large sign on a tripod denying entry as well as stationing a security guard outside the building throughout the protest. In over a year of protests against G4S, protesters have frequently marched through the corridor of the building, which is a designated public space in New York City, demanding that G4S get out of Palestine.
The protest in New York followed Samidoun's participation in an earlier action on Friday, 9 December, when activists joined BAYAN USA and the NY Committee for Human Rights in the Philippines for a protest for freedom for political prisoners in the Philippines outside the Philippines Consulate.
After major international BDS pressure, including the loss of millions of dollars in contracts – with just this week UN agencies in Jordan and Lebanon refusing to contract further with G4S – G4S sold its Israeli subsidiary to Israeli private equity firm FIMI. Its subsidiary provides security systems, control rooms and equipment to the Israeli prison service. In addition, G4S has been targeted for global boycott campaigns not only for its profiteering from the occupation and oppression of Palestinians but also for its role in youth incarceration, migrant detention, and private security for the Dakota Access Pipeline and mining corporations in the US, Canada, Australia, the UK and elsewhere.
Samidoun Palestinian Prisoner Solidarity Network in New York City is also ramping up its focus on Hewlett-Packard – HP – as a target of boycott and protest. HP was recently the subject of a global week of action called for by the Palestinian Boycott, Divestment and Sanctions (BDS) National Committee. Over 150 actionstook place in 101 cities and 30 countries around the world, demanding HP drop its contracts to provide technology that enables occupation and oppression of Palestinians. In particular, HP Enterprise providesspecialized biometric access control systems for Israeli military checkpoints, IT infrastructure to the Israeli army and navy, and tens of millions in technological services for the Israel Prison Service, including a prison management system.
On Friday, 16 December at 4:00 pm, Samidoun in New York will protest against HP's role in Palestine outside Best Buy, a major electronics retailer selling HP products, in Union Square in New York City. All supporters of Palestinian rights and freedom for Palestinian political prisoners are invited to join the demonstration.
Samidoun activists are also participating in and supporting an array of activities for political prisoners in US jails, including a 9 December protest in Philadelphia for freedom for Mumia Abu-Jamal, a 10 December gathering for US political prisoners, and a week of action in Washington, DC for freedom for Leonard Peltier.
Photos by Joe Catron (Philippines protest pic via NYCHRP)