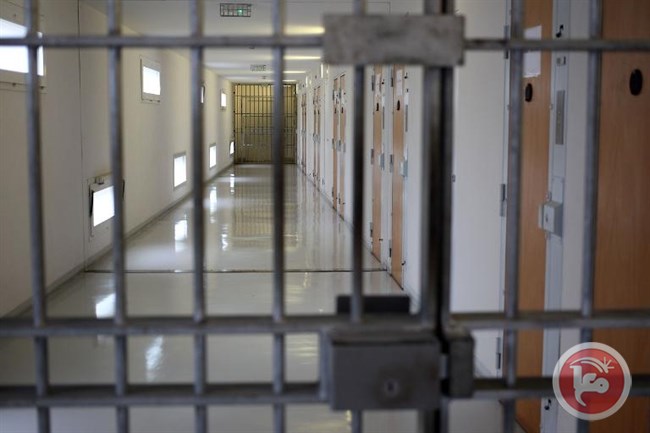 BETHLEHEM (Ma'an) — Palestinian Prisoners' rights groups accused Israeli authorities of "deliberately" attempting to kill Palestinian hunger strikers, while simultaneously employing several tactics to convince hunger strikers to break their strikes, according to statements released on Thursday.The Palestinian Prisoner's Society (PPS) said in a statement that Palestinian hunger striker Ammar Ibrahim Hamour, 28, who has been on hunger strike for 18 days in protest of being held in administrative detention — the controversial Israeli policy of internment without charge or trial –told PPS lawyer Khalid Mahajna that the Israel Prison Service (IPS) has been attempting to pressure him to end his strike.According to the Mahajna, Hamour has been held in solitary confinement in Israel's Ashkelon detention center after being transferred from Israel's Ktziot prison a few days prior, and informed Mahajna that he was being kept in "very bad conditions," while IPS officials have taunted the hunger striker with meals. An Israeli doctor in the prison also visited him to convince him to take vitamins, according to the statement.Israeli doctors have long been the target of criticism from rights groups for their complicity in the mistreatment of Palestinian prisoners held by Israel.
However, Hamour has continued to reject food and vitamins, only consuming water during his hunger strike. He has begun to suffer from stomach pains and is now suffering from a sleeping disorder due to his strike.Hamour is from the northern occupied West Bank city of Jenin and declared his hunger strike on Nov. 21.Meanwhile, Head of the Palestinian Committee of Prisoners' Affairs Issa Qaraqe said in a statement that Israeli authorities have "deliberately" attempted to kill Palestinian hunger strikers by allowing their health to deteriorate, while forcing them into "difficult circumstances," emphasizing that Anas Shadid and Ahmad Abu Farah have gone without food for 76 and 77 days respectively, against being held in administrative detention.Shadid, 20, and Abu Farah, 29, both residents of the southern occupied West Bank village of Dura, were 
reported to be in "critical condition"
this week.Qaraqe called Israel's "slow killing of Palestinian hunger strikers" a "crime," and urged the international community to intervene, adding that Israel's treatment of Palestinian hunger strikers represented a "humanitarian crisis," and that Israel was fully responsible for the conditions of Palestinians in Israeli prisons that have forced scores to go on hunger strike.He also said that 75 days was the "maximum" that a hunger striker could continue their strike only consuming water, noting that Shadid and Abu Farah were both experiencing worsening health as their organs were failing.Qaraqe added that four Palestinian prisoners were currently on hunger strike: Anas Shadid, Ahmad Abu Farah, Ammar Ibrahim Hamour, and Kifah Hatab.
Meanwhile, on Thursday, Muhammad, 26, and Mahmoud Balboul, 23, were
released from Israeli prison
after going on hunger strike for 77 and 79 days respectively after being placed under administrative detention.
Although Israeli authorities claim the withholding of evidence during administrative detention, which allows detention for three- to six-month renewable intervals, is essential for state security concerns, rights groups have instead claimed the policy allows Israeli authorities to hold Palestinians for an indefinite period of time without showing any evidence that could justify their detentions.
Rights groups have claimed that Israel's administrative detention policy has been used as an attempt to disrupt Palestinian political and social processes, notably targeting Palestinian politicians, activists, and journalists.
The European Union Representative, the EU Heads of Mission and the Heads of Mission of Switzerland and Norway in Jerusalem and Ramallah issued a statement Thursday condemning the policy, highlighting their concern over the deteriorating medical conditions of Shadid and Abu Farah.
"The EU, Switzerland and Norway call for the full respect of international human rights obligations towards all prisoners. Detainees have the right to be informed about the charges underlying any detention, must be granted access to legal assistance, and be subject to a fair trial," the statementsaid.
According to Addameer, 7,000 Palestinians were being held in Israeli prisons as of October, 720 of whom were being held in administrative detention.