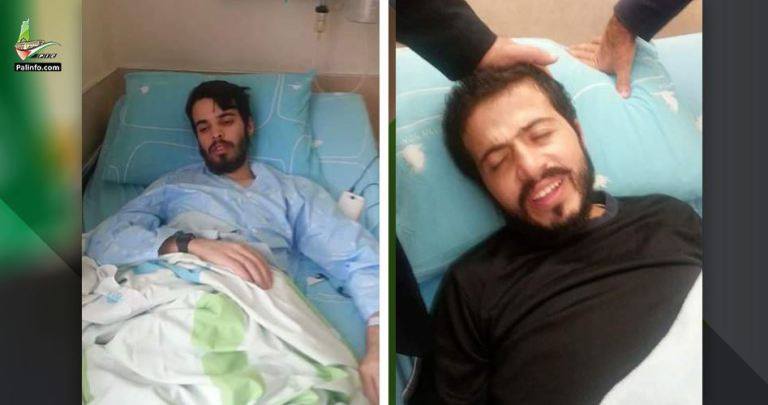 On Friday, Anas Shadid and Ahmad Abu Fara will reach their 91st day on hunger strike against their "administrative detention" without charge or trial by Israel.
On Saturday, Palestinian doctor Mohammed Jadallah, who had visited the two in Assaf Harofeh hospita, said in a report that the coming hours were critical for the lives of the two hunger-striking young men. He said that they may have permanent kidney disorders and that their legs are atrophying. They also have damage to their hearts, vision, mouth, and pharynx. They suffer from severe pain throughout their bodies (http://samidoun.net/2016/12/86-days-of-hunger-strike-supreme-court-suggests-force-feeding-for-shadid-and-abu-fara).
"Administrative detention" is a British colonial-era policy Israel uses to intern 720 Palestinians from the occupied West Bank indefinitely (http://www.addameer.org/israeli_military_judicial_system/administrative_detention).
In defiance of international condemnation, Israel recently ordered 27 Palestinians into "administrative detention" over less than two weeks (http://samidoun.net/2016/12/27-more-administrative-detention-orders-issued-against-palestinian-prisoners).
Stand with Shadid and Abu Fara to demand that Israel release them, other "administrative detainees," and all 7,000 Palestinian political prisoners immediately, and that Hewlett Packard companies end their contracts with Israeli prisons and detention centers, occupation and security forces, and checkpoints and settlements (https://bdsmovement.net/boycott-hp) now.
Help build a growing international campaign to boycott HP (http://uscpr.org/hpwoaroundup) over the companies' support for Israeli crimes.
Samidoun also urges all supporters of Palestinian political prisoners to pressure their governments officials to end the silence and complicity with the Israeli regime of political imprisonment and administrative detention.
Call during your country's regular office hours:
• Australian Minister of Foreign Affairs Julie Bishop: + 61 2 6277 7500
• Canadian Foreign Minister Stephane Dion: +1-613-996-5789
• European Union Commissioner Federica Mogherini: +32 (0) 2 29 53516
• New Zealand Minister of Foreign Affairs Murray McCully: +64 4 439 8000
• United Kingdom Foreign Secretary Boris Johnson: +44 20 7008 1500
• United States President Barack Obama: 1-202-456-1111
Tell your government:
• Two Palestinian prisoners, Anas Shadid and Ahmad Abu Fara, have been on hunger strike since 25 September against "administrative detention," Israeli imprisonment without charge or trial.
• Your government must demand the strikers' immediate release and end all support for Israel's political imprisonment and other crimes against Palestinians.
• Israel's use of "administrative detention" is a universally-recognized violation of human rights and international law.
• The government must do more than criticize "administrative detention" or express concern, but should also take serious measures to end these violations.
Support the Palestinian people, the Palestinian prisoners, the Palestinian Resistance, and the liberation of Palestine, from the river to the sea.