يحتوي هذا الكتاب بنسخته العر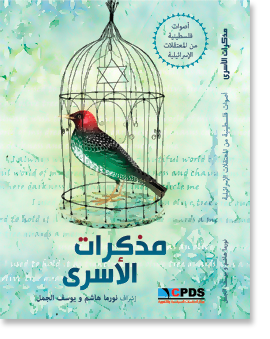 بية على قصص ٤٢ أسيرا فلسطينيا في السجون الإسرائيلية. تم الإفراج عن ١٠٢٧ أسيرا
في العام ٢٠١١ ضمن صفقة تم بموجبها الإفراج عن الجندي الاسرائيلي جلعاد شاليط. هذا الكتاب مهدى لكل الأسرى
الفلسطينيين في الماضي والحاضر والمستقبل ولمن تحرروا منهم. نشر الكتاب للمرة الاولى باللغة الانجليزية في يوم
الأسير الفلسطيني الموافق ١٧ نيسان من العام ٢٠١٣. تم ترجمة ونشر الكتاب باللغة العربية والإنجليزية والتركية
والفرنسية والمالاوية والإندونيسية، وجاري العمل على توزيعه ونشره بلغات وصيغ متعددة.
About the Editor
NORMA HASHIM – Full Time Social Activist, Treasurer at Viva Palestina Malaysia, Vice President of The International Union of Braille Quran Services, Founder and Trustee of Al-Fitrah Foundation, Treasurer and Committee Member at The Calistro Prize
Where to buy?
Available online from:
In Gaza it will be available for sale at the Hashim Yeop Sani library at the Centre for Political and Development Studies , Nema'a Tower, Gaza City. Sale proceeds will be used to fund library activities to encourage citizen journalism.
An Interview with Yasser Albanna, the editor of the Arabic version of the "Prisoners Diaries" on Al-Kitab TV
Book Review
في «مذكّرات الأسرى: أصوات فلسطينية
من المعتقلات الإسرائيلية» («الدار العربية فلسطينية
– Al-Akhbar Newspaper, ..VIEW ALL
تحرك «مذكرات الأسرى .. أصوات فلسطينية من المعتقلات الإسرائيلية» المشاعر، فهي سلسلة كتابات وشهادات
مروعة يرويها سجناء فلسطينيون تحملوا صنوف العذاب لعقود في ظلام شبكة سجون إسرائيل غير الشرعية
– Alroeya Newspaper, ..VIEW ALL
أن تعيش بين القوة والضعف، بين الحب والكره، بين الرضا النفسي والقلق، بين الرغبة في تحدي السجان بحب
الحياة والرغبة في الموت ليس حباً فيه وإنما لإنهاء معاناة من يحاولون الوصول إليك والتواصل معك. مشاعر
تختلط ومتناقضات تتلاقى في قلبي وعقلي في تلك الزنزانة اللعينة
اعتدنا أن يكون ضحايا الحروب والثورات والكوارث الطبيعية أرقاماً، لا
أكثر. لا تُذكر أسماؤهم إلا في التقارير الحقوقية، التي يقرأها أشخاص
معدودون فقط