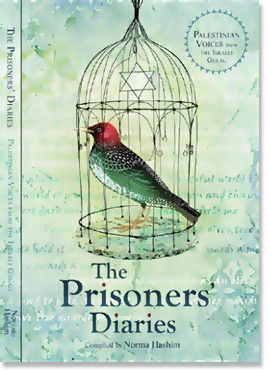 This is a compilation of 22 Palestinian prisoners' experiences in Israeli jails . 1,027 prisoners were released in 2011 as part of the exchange with Israeli soldier Gilad Shalit and 22 of them were interviewed by journalists. Their commentaries were translated by CPDS and edited. The book is dedicated to Samer Issawi and all Palestinian prisoners, past, present and future, and was released on 17April 2013, in conjunction with Palestinian Prisoners' Day.
Translated by: Yousef Aljamal and Raed Qaddura
About the Editor
NORMA HASHIM – Full Time Social Activist, Treasurer at Viva Palestina Malaysia, Vice President of The International Union of Braille Quran Services, Founder and Trustee of Al-Fitrah Foundation, Treasurer and Committee Member at The Calistro Prize
Where to buy?
Available online from:
As well as the following bookstores:
The Prisoners Diaries E-Book
The pdf version of this book can be downloaded HERE for $1.99. It will be sent to the email address linked to your Paypal account.
The ebook is also available on various online bookstores, including AMAZON, BARNES AND NOBLE, KOBO and iTUNES.
The Prisoners' Diaries in discussion with Norma Hashim
Book Review
"This book is so valuable as it combines the witnessing by prisoners with just enough information about the magnitude of the Israeli prison system to give readers a true understanding of this most agonizing dimension of the Palestinian ordeal."
– Richard Falk, Albert G. Milbank Professor of International Law Emeritus, Princeton University and UN Special Rapporteur for occupied Palestinian Territories (..See More)
"While activists and supporters of the Palestinian cause will undoubtedly be outraged by the atrocities narrated in this book, it would serve as an incentive for international leaders and organisations clamouring for human rights to reconsider and reconcile themselves with the universality of such themes."
– Ramona Wadi, Middle East Monitor (..See More)
"I defy you to read these stories and not weep for Jews and Palestinians. Now dry your eyes and work for justice, peace and reconciliation."
− Stephen Robert Sizer, Anglican vicar of Christ Church, Virginia Water, Surrey, England, writer, peace activist and freelance photographer
"A humane, beautiful, valuable yet painful book. I ask all people of conscience to read it to learn more about the suffering of the Palestinian detainees in Israeli Occupation prisons."
− Hana Shalabi,former hunger striker, Hasharon prison, Tel Aviv
"In a land where hope is the most precious commodity passed down through the generations, these [books] provide a tangible platform for silenced voices to be heard and means towards gaining some dignity for a wounded nation. "Read the books to get to know Palestine closely. See what the Israeli occupation does not want you to know about Palestine and the Palestinian people."
– Ramzy Baroud, Community on BuzzFeed (..See More)