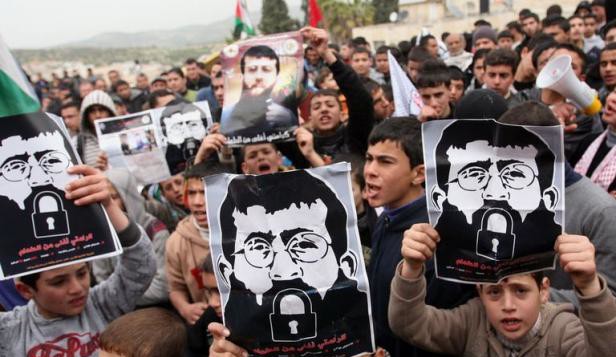 Khader Adnan, Palestinian political prisoner held under detention without charge or trial, launched an open-ended hunger strike on May 6 in protest of the third extension of his administrative detention, for a four-month period. Adnan, 37, a baker from Arraba near Jenin, is a previous long-term hunger striker whose 2012 66-day hunger strike secured his release from administrative detention and helped to spark a wave of hunger strikes by Palestinian political prisoners demanding freedom and changes in conditions inside the prison. Take Action! Demand freedom for Khader Adnan!
Adnan has been arrested ten times by Israeli occupation forces; he has generally been ordered to administrative detention by the Israeli military. Administrative detention is imprisonment without charge or trial on the basis of secret evidence for indefinitely renewable one to six month periods. Over 401 administrative detention orders have been issued so far this year against Palestinians.
IMEMC reported that Adnan's wife, Randa, said Adnan's lawyer phoned her, on Tuesday evening, informing her that Adnan started a hunger strike, and had immediately been moved into solitary confinement in Hadarim prison.
Released in April 2012, Adnan was re-arrested with a slew of fellow former political prisoners in the Israeli mass arrest raids of July 2014, following the killing of three settlers in the West Bank and shortly before the war on Gaza. He was quickly returned to administrative detention without charge or trial with a six month sentence, renewed for four months in January and now again for four months. In January, he held a one-week hunger strike for which he announced the duration in advance, protesting the renewal of his detention.
In 2012, Adnan's hunger strike captured the support of international activists, human rights organizations and the Palestinian people. His image, in a stylized graphic designed by Palestinian artist Hafez Omar, covered walls throughout Palestine. Internationally he became a symbol of the steadfastness and continuing struggle of Palestinians behind Israeli bars and expressed solidarity with fellow political prisoner Georges Ibrahim Abdallah, held in French jails for 31 years, and the mass hunger strike of California prisoners..View more